5 Ways I Avoid Being "That" Tennis Parent
This guest post is from Debbie Graham Shaffer and originally appeared on Marianne Werdel's blog here. Here are just a few of Debbie's accomplishments…
Junior tennis: Won 10 national championships and ended junior career #1 in the US and #2 ITF

Debbie Graham
College tennis: Won NCAA singles her sophomore year and three team championships for Stanford University.  Graduated in three years with degrees in Political Science and Economics. (Yes, she is one of the academically challenged). She was inducted into the Stanford Athletic Hall of Fame in 2007.
Professional Tennis: Eleven years on the WTA Tour with career high ranking of #28 singles and #9 in doubles. She was a member of the US Federation Cup Team. Last year, Debbie was inducted into the Southern California Tennis Association Hall of Fame.
Coach: Certified with USPTA, PTR and USTA HP. She was a USTA National Coach for eight years. She is an advocate of orange and green dot progression with her "Little Aces" tennis program. Debbie is the SCTA Fed Cup Coach and coaches players of all ages, from youngsters to pros and adults, in Orange County, CA.
Ok, now we know Debbie Graham Shaffer has some extensive tennis wisdom. Here is her story having to remember some of her own advice as her daughters now play competitive tennis.
My 5 Tips to Tennis Parents: by Debbie Graham Shaffer
So, there I was, watching my 9-year-old daughter play in one of her first tennis tournaments. All of a sudden, a ball four feet inside the line gets called out by the opponent, then another, then another. Then the opponent started saying nasty things to my 9-year-old. Then the opponent started pumping her fist at me and giving me a stare down. My daughter was in tears; she had no idea what to do. Of course, I did, but this was her first "bad" tennis experience.
"You can imagine what I was thinking, "What is this? The Wimbledon of Satellites"?
That was when the realization hit me! I suddenly understood why all tennis parents act the crazy way they do. Having been a player, then a coach, and now a coach and a parent of two tennis-playing daughters, I finally understood why parents can act the way they do. I wanted to jump on the court, give my daughters opponent a what for, get into it with the parents, grab my daughter and hug her and tell her she would be okay, and obnoxiously cheer against the opponent, but I didn't. Let me tell you it wasn't easy. It is hard enough sitting there with my stomach in knots but adding all this was a nightmare, but I was determined not to be "that" tennis parent.
So, I took a walk, took a deep breath, and put my coaching cap on and remembered the advice I give to my parents about their kids and tennis.
1.  GET YOUR CHILD THEIR OWN COACH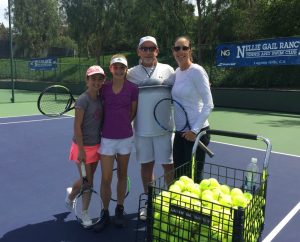 NEVER, attempt to coach them. This is the biggest favor you can do for yourself and your child. Let's face it; your child is not going to listen to you because you are Mom and Dad. In their eyes, you know absolutely NOTHING about tennis, even if you were one of the top 10 players in the world! When coached by someone else, your kids will work ten times harder in practice, and they actually will listen. Even if it is the exact same thing you tell them all the time. My daughters are always trying to impress their coaches, but they certainly don't care about impressing me. Getting your child their own coach will save your relationship in the long run. Trust me!
2.  THE CAR RIDE HOME
Never talk about anything related to the tennis match on the car ride home, unless of course, they won, in which case, you can squeeze in some compliments ONLY COMPLIMENTS! If your child lost that day, a simple "Sorry about your match", is all that is needed. Then move on. This also applies to car rides home after practice or lesson. Ask only how practice went, and don't make them go into details. If they want to tell you about it, then let them. If they say "good", as my kids do, leave it at that. Don't ask if you played Stevie, and "Did you beat him?" The LA Times does not post the winners and losers of practice matches in the paper, so don't waste your time asking your child annoying questions about a practice match.
3. MAKE SURE YOUR CHILD OWNS THEIR TENNIS
By this I mean make sure when they get to a certain age that they are the ones calling the shots. Make sure they are setting up their own practice matches, asking for extra practice, or asking to play in a tournament. Make sure your child is aware of the schedule during the week and the current month. Parental guidance is useful, but let your child have input. Obviously, when your children are younger, you have to do most of the scheduling, but even when they are young, make sure they are aware of what is being planned for them.
4. DO NOT BE A HELICOPTER TENNIS PARENT
If you can't handle watching tournaments, and you are concerned, you might behave poorly, then drop your child off at the tournament and have them call you when they are finished. Many times I have the grandparents take my girls to their tournament. One time I saw an older girl Uber to her tournament match, which is a great idea once your child is old enough. Helicoptering also applies to practice and lessons. Drop your child off and let them have their own practice with their friends or coach. This gives them independence and lets them know you trust them. I am sure there are plenty of other things a parent can do for two hours besides sit and hover around the courts.
5. MAKE SURE TENNIS IS FUN FOR YOUR CHILD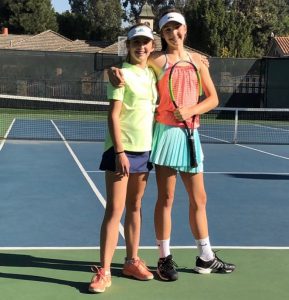 Make sure everything in your life, and your child's life, does not revolve around tennis. Make sure your kid gets to be a kid! Let them go to a friend's birthday party, or out to the movies once in a while. Let them ride their bike or go to the beach. Tennis Channel does not have to be on 24/7 unless your child wants it to be. Let your child have one or two days off a week if they have been working hard. This helps prevent burnout. Learn to watch and see if your child is getting tired or no longer enjoying the tennis. If you notice this, it may be a good idea to adjust the tennis schedule or give them an extra day off. This also prevents injuries. Finally, always encourage them to have fun when playing tennis. If you see or hear your child is developing poor sportsmanship on or off the court, then it's time to reset and make sure the sport stays fun for your child.
Anyone who's been a tennis parent, myself included, can tell you it isn't an easy job. But in a lifetime as a tennis player, coach, and parent, I've found that the above steps can help your child enjoy the sport, still reaching their maximum potential, and it will save your parent/child relationship. TRUST ME!